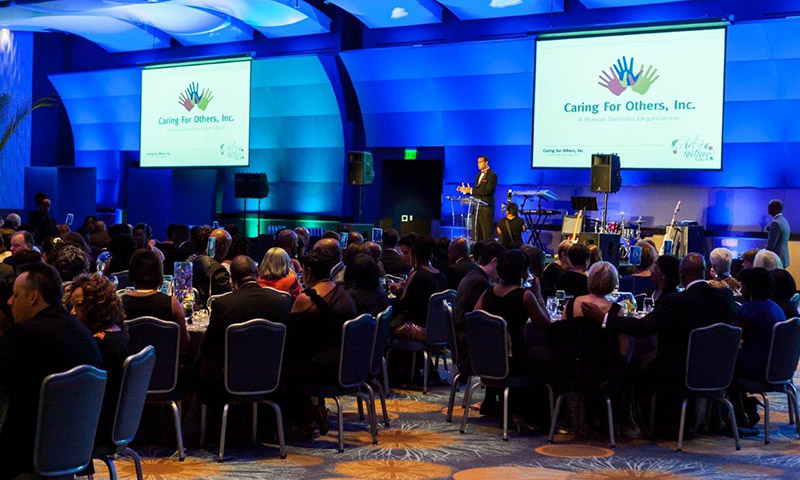 Events By Bliss provides full Audio Visual Support for your next event. We understand how important your presentation is to your audience and we want you to achieve your goals. With our extended expertise in this field we are fully capable of providing pre-event planning and consultation, setting up, operating and striking all necessary equipment. We would love to offer you advice on what equipment is right for your next event and can help provide the correct setup for events such as:
– Corporate Events and Meetings

– Keynote Presentations

– Product Launches

– Weddings & Special Events

– Meeting Sessions and Trade Shows
Projection
We have various size screens and projectors available for your event. We work with you to ensure your content is ready for production as well as staff to provide a smooth presentation.
Audio Packages
We can provide sound reinforcement for your ceremony, conference or special event. Microphones, speakers and other items are available to create the package that will meet your event needs.
"Do It Yourself" Audio/Visual Rentals
Is your presentation a smaller scale and budget is not not allowing our full service option? We offer many different rentals your audio visual needs in house and are ready to deliver it to your next event. We also have our will call pick up option in our office/warehouse location.
Powered Speaker Rental

Handheld or Lavalier (Lapel) Wireless Microphone Rental

Portable Projection Screen and Projector Rental

Presentation Clicker and Timer Rental

Sound Mixer Rental

Confidence Monitor Rentals

And More!
We are prepared for your upcoming corporate event, trade show or special occasion. Let us know your technical needs and we will work with you to create the event package that best fits your needs. We provide professional operators and on-site staff to make the event an amazing experience for your group.